Please see our Community Programs below that are open to all !!
At the bottom are Club Member Programs
---
community Programs
---
Kids camp

-

WILD ABOUT SPORT
PADDLING CAMP
week long 830am-4pmJuly 6
July 13
​July 20

July

27

​Aug 17
August 24

DAY CAMP FOR 7-12 Year Olds

Children ages 7-12 explore the ecosystem around the Lemoine Point Conservation Area by land and sea!

Wild About Sport from the CWF brings elements of our ecosystems, environment and stewardship and is also combined with AdventureSmart "Hug-A-Tree" programming and PaddleSmart to build confidence, knowledge and skills to participate in activities in the nature areas around us.

Learn about various habitats, ecosystems, paddling skills and safety in a fun, supervised setting while using size-appropriate kayaks/paddles and SUP boards.

(Maximum Instructor to child ratio 1:6, so SPACE IS LIMITED)

​Days are:

8:30-4:00 Monday to Friday (early drop off and late pickup can be arranged for an additional fee)

Campers need:

properly fitted PFD (We have lots if you don't. But, we want your child to wear what they are used to wearing)
dry land shoes - closed toe mandatory
water shoes (optional)
Bathing suit (wear it to camp)
Water bottle
Sunscreen!!
Towel
Change of Clothes
Warm & dry clothes and rain Jacket
Snacks
Lunch

Cost - $250+HST per participant per week for non members. ($200+HST for Community club members)

REGISTRATION NOW OPEN!!!!!!!!

---

JUNIOR PADDLE 1/2 DAY CAMPS

Learn to Paddle & Learn to Compete Program for junior athletes 10-15 years old. NO EXPERIENCE NEEDED!

​Thanks to an Ontario Sport and Recreation Grant, LBBC is proud to begin our youth learn to paddle and learn to train Surfski & K1 kayak program in cooperation with the Sydenham Lake Canoe Club.

​JUNIOR Sessions run 9:00AM - 1:00PM each week day and usually have two on water sessions and a break

​JUNIOR SESSIONS
1 Week every day 9:00AM -1:00PM
Level 1 and Two
Cost is $225+HST for non members $175+HST for Community Club Members
30% OFF your second session and 50%OFF if your third

---

---

ADULT LEARN TO PADDLE/LEARN 2 TRAIN

Learn to Paddle & Learn to Compete Program for adult athletes of all ages and experiences!
​
Thanks to an Ontario Sport and Recreation Grant, LBBC is proud to begin our adult learn to paddle and learn to train Surfski kayak program in cooperation with the Sydenham Lake Canoe Club.

ADULT Sessions run Monday, Wednesday and Friday either in the morning at 600AM - 8:00AM or in the evenings at 5:30PM -7:30PM and finish the two week program with a fun regatta.
​
ADULT SESSIONS:
Level 1 - 2 Weeks - Introduction for new paddlers
Level 2 - 2 Weeks - Introduction to competition/fitness training and more advanced skills
* dates are on the registration page

Cost is $225+HST for non members $175+HST for Community Club Members
30% OFF your second session and 50%OFF if you enrol in a third

---

---
CLUB Programs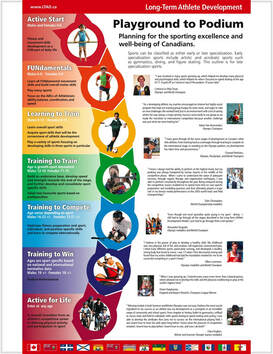 Programs for Members
Include fitness/race training, recreational SUP paddles, Paddle and a Pint nights Spearhead Brewing Company, training groups in the morning and evenings in Surf Skis and SUP as well as regular races for members and public.

Thanks to an Ontario Community Sport and Recreation Fund Grant, the club will be introducing youth and adult learn to kayak and learn to train programs. This K1 development program will use surf skis to train children ages 10-18 and adults through Sport Canada's Long Term Athlete Development Model as an introduction to sprint kayak and progression to competitive programs at LBBC and Sydenham Canoe Club. Adults will enjoy training in the "active for life" stage of the LTAD and may wish to progress to join our Marathon Racing team which competes all across eastern Ontario and the USA on rivers and lakes in races from 10-100km in length.

WHERE DO YOU WANT TO BE IN THE LTAD? See the Image for details-->

We are also pleased to announce the arrival of our Y-Flyer fleet of dinghies which were donated by individuals all over Ontario. These sailboats will be refitted over the next few years and we will be hosting various events and races during 2020-2021 depending on funding.






---